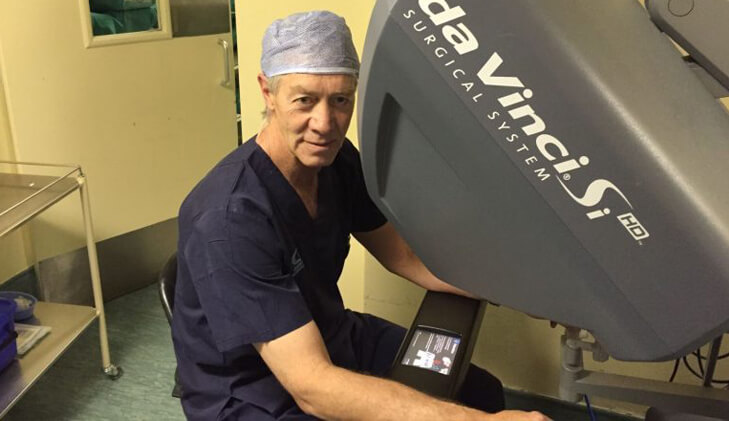 Top surgeon, Dr Lance Coetzee, who has become the first urologist in SA to complete 1 000 robotic procedures, says robots are changing the face of cancer treatment and are helping save lives.
"As robotic technology evolves into smaller, sleeker machines, they can perform even more precise procedures, saving many more lives," said Dr Coetzee, a world-renowned surgeon at The Urology Hospital Pretoria — the first institution in Africa to acquire a robotic surgical system in 2013.
Dr Coetzee says most of his 1 000 surgeries have been radical prostatectomies (removing a cancerous prostate) while some have been partial nephrectomies (partial kidney removal).
"Robotically-assisted surgery is minimally invasive and negates the tremendous morbidity of the large incision we would use for open surgery," he said.
Dr Coetzee is one of a handful of South African proctor surgeons registered to train other SA urologists in robotic surgery.
"Robotic surgery is here to stay and is growing in leaps and bounds. This technology allows for a much shorter recovery time. Patients no longer have to be away from work for six weeks for a large abdominal operation. "Using robotic surgery patients can be back at work in as little as 10 days," he added.
Dr Coetzee said open prostate surgery recorded a post-operative potency rate of around 40%, while robotic surgery preserved this function in over 80% of patients.
He said urinary incontinence from robotic surgery was below 2%, significantly lower than open surgery.
"We are now entering the 4th generation of robots that are smaller sleeker, more maneuverable and which will help continue to save more lives.
"We are hoping to acquire one of these systems at The Urology Hospital in the not-too-distant future," he added.
The Urology Hospital CEO, Malcolm Anthony congratulated Dr Coetzee on his phenomenal achievements and his contribution to the field of urology, globally."
For more information, contact 012 423-4000 or SMS the word INFO and your e-mail address to 33000 (SMS charged at R1.50).
The Urology Hospital, Pretoria
The Urology Hospital, Pretoria, is the only urology centre of excellence in Africa. With more than 20 urologists under one roof, using the latest in highly specialised technology as well as specialised urology trained nursing staff, it offers unparalleled expertise in its field. In addition, the hospital maintains its association with the academic world to ensure ongoing research, medical education and training and development in the field of urology.
The hospital prides itself on being at the forefront of technology. It was the first hospital in South Africa to perform robotic surgery, implement a robotic pharmacy picking system and now has one of only a handful of 3D laparoscopic surgical units in South Africa. The hospital has undergone major renovations and now offers 127 beds and eight theatres.
The Urology Hospital not only cares about patients and staff, but also for the community, undertaking numerous Corporate Social Investment initiatives throughout the year. The hospital and staff work together to assist selected charities, including donations to The Clothing Bank, uniforms for Sunnyside Primary School and stationery for Balebogeng Primary School.

View the original article here:
https://urology.co.za/top-sa-urologist-becomes-first-to-complete-1-000-robotic-surgeries/

Related Articles:
Top SA Urologist Becomes First to Complete 1 000 Robotic Surgeries
SA urologist completes 1000 robotic surgeries
Top SA urologist becomes first to complete 1,000 robotic surgeries
Share this post?