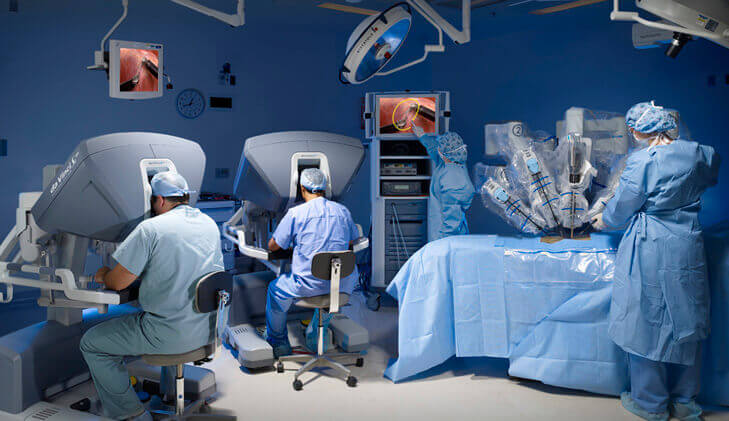 Robotic surgery has dramatically lowered the rate of impotency from prostate surgery in a large number of men since its introduction in South Africa two years ago, according to one of the country's top urologists.
Dr Lance Coetzee, from The Urology Hospital, Pretoria, which was the first hospital in SA to acquire a R20-million da Vinci Surgical System in October 2013, says the hospital has completed almost 400 successful robotic prostatectomies (removal of cancerous prostate) with a host of significant benefits to men. Prostate cancer is the most common cancer in black SA men and the second most common in white men, according to the National Cancer Registry.
Before robotics, many men suffered from impotence, incontinence and a long and painful recovery after surgery. Now, due to the precision of robotic surgery, vital nerves may be preserved more easily, dramatically lowering the risk and incidence of impotence and incontinence. Other benefits of this minimally-invasive state-of-the-art technology include less pain, less blood loss, shorter hospital stay and a quick return to normal daily activities — sometimes within a week, compared to six weeks previously.
"Robotic surgery is effectively preserving erectile function and urinary control in many cases. This surgery provides for vision and precision which, if conducted properly, by well-trained surgeons, reduces the chance of damaging vital nerves. Previously, potency may have returned — sometimes only partially — over a period of one to two years with an average 50% recovery rate. Now, we're seeing erectile function often returning within one to three months, depending on the patient's potency before the operation."
Dr Coetzee explained that, previously, some men chose to live with prostate cancer, maintain potency and die from the disease, rather than undergo an operation and risk becoming impotent. "Now, this is no longer necessary," he said.
Dr Coetzee has performed over 200 robotic procedures and is one of only two proctors in SA which means he is able to train other urologists on robotic surgery. He explained that the da Vinci Surgery System was also perfectly placed to undertake partial nephrectomies (removal of cancerous part of kidney) which could revolutionise kidney cancer treatment in SA. The robot could also be used for a range of gynaecological procedures and discussions were underway with medical aid companies to cover the costs of these operations.
About The Urology Hospital
The Urology Hospital has been in existence for 19 years and is the only specialised urology hospital in Africa. It strives to be 'Outstanding due to Excellence'. Twenty top urologists are based at the hospital, offering unparalleled expertise under one roof.
The Urology Hospital uses highly specialised technology, focusing inter alia on prostate disease/cancer, kidney stones, bladder problems, urological cancer management, female urology and paediatric urology. Other common procedures include prostatectomies, nephrectomies (surgical removal of kidney), partial nephrectomies, circumcisions, vasectomies and male infertility. The hospital works closely with The Department of Urology at the University of Pretoria's Medical School to ensure the highest standard of trained staff at all times.
Share this post?